When it comes to roofing solutions that offer a harmonious blend of durability, performance, and environmental consciousness, Thermoplastic Polyolefin (TPO) roofing stands out as a shining example. In this article, we dive deep into the world of commercial roofing from the perspective of roofing experts, shedding light on its sustainable attributes, recyclability, and reduced environmental impact.
Understanding TPO Roofing's Eco-Friendly Advantages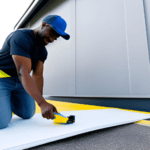 TPO has gained substantial recognition for its ability to contribute to a more sustainable future. One of its most notable features is its energy-efficient nature. TPO reflects sunlight effectively, minimizing heat absorption and reducing the need for excessive cooling. This energy-saving characteristic not only reduces utility bills but also lowers the overall carbon footprint of a building.
Roofing Experts on TPO's Recyclability
Roofing experts unanimously highlight the recyclability of TPO as a key advantage. Unlike some traditional roofing materials, TPO can be recycled at the end of its lifespan. This means that when it's time for a roof replacement, TPO materials can be collected and reprocessed into new products. This closed-loop approach significantly reduces the amount of roofing waste that ends up in landfills, contributing to a more sustainable waste management strategy.
Reduced Environmental Impact with TPO Roofing
TPO's environmental benefits extend beyond its recyclability. The manufacturing process of TPO roofing involves fewer harmful emissions compared to other roofing materials, which aligns with the growing demand for products that have a reduced environmental impact. Roofing experts emphasize that by choosing TPO, businesses can actively participate in the reduction of greenhouse gas emissions, supporting a healthier planet.
A Smart Choice for a Greener Future
In a world where environmental concerns take center stage, TPO emerges as a smart choice for businesses seeking sustainable roofing solutions. Its energy efficiency, recyclability, and reduced environmental impact collectively create a roofing material that roofing experts confidently endorse. By investing in TPO, businesses not only make a wise financial decision but also contribute to the collective effort of building a greener future.
Thermoplastic Polyolefin (TPO) roofing isn't just a roofing material; it's a statement of commitment to sustainability and environmental responsibility. With endorsements from roofing experts, TPO stands as a testament to the potential for innovative materials to transform industries and create a positive impact on our planet. As we continue to strive for a greener future, TPO roofing is undoubtedly a shining beacon guiding us toward a more sustainable tomorrow. At Alpha Commercial Roofs, we are committed to providing exceptional roofing services tailored to your specific needs like TPO. Contact us today to learn more about how we can help you protect your commercial investment.