We sat down for a Q&A with Shawn Fobas, one of the owners of Alpha Commercial Roofing, along with Christopher Miles, to get insight into the state of the industry.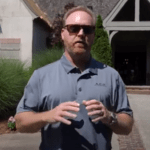 Tell us about yourself. Where are you from?
I have lived in the Atlanta Area since I was 6 years old,  graduating from Dunwoody High School.  I Attended the University of Alabama and graduated with a Marketing degree from the business school.  I spent several years in medical device sales.  I ran a successful distribution company for 20 years servicing in GA, SC, FL and USVI.  I partnered with ACR Commercial Roofing in 2020 focused on building a customer centric experience with a major attention to detail.  The roofing business has been consistent with limited customer understanding of what is really happening on their roof.  We aim to educate our customers.
How long have you been working in the commercial roofing sector?
Our team has a collective 25 years in the roofing industry.
Is this the busiest time of the year for ACR?
Summer tends to be the busier time of year for projects however, State and Local governments plan their bidding process around capital budgets and we find ourselves very busy quoting business at the beginning of the year.
What types of commercial roofs do you specialize in?
We specialize in Flat Membrane roofing with TPO, PVC and Modified Bitumen Asphalt materials.  Low slope roofing that cannot accept Shingles.  We take a consultative approach with our customers and many times can offer a High Solid Silicone Coating on their current system to extend the life of their current system.  This can result in an additional 10-20 year life to the roof at a much lower cost vs. replacement. 
What is your approach to roof inspections and assessments?
Our initial goal is to establish the roof's current condition and can its life be prolonged.  In many instances a roof can look bad but just need a thorough tune up versus complete replacement.  We strive to be budget conscious with our clients and 90% of the time can provide 2-3 solutions.
What factors do you consider when determining the best roofing solution for a commercial property?
The assessment of existing system plays a big role in determining the best solution.  UV stability, Insulation and moisture saturation levels from thermal scanning help us develop a thorough plan.
How do you ensure safety during the roofing installation or repair process? 
We have Tool box talks prior to working mornings with sign in sheets.  Topics included but not limited too, ladder safety, fall hazards, parameter roof safety, personal fall-arrest systems, personal protective equipment (PPE) etc.
What new advances in technology do you see in commercial roofing?
Moisture scanning and Thermal imaging play a big role today.  Negative Pressure wind systems as opposed to Mechanical Fastening and adhesives.  Single ply membranes such as TPO and PVC continue to improve the longevity of systems.
What are the most common issues that commercial roofs face, and how can they be prevented?
Preventative maintenance is key number one!  Clearing roof drains and debris build up on a regular basis.
What certifications or licenses should a commercial roofing contractor have, and how can one verify their credentials?
Applicable State and trade licenses, Manufacturers installer certifications, Memberships to national associations such as NRCA and any state associations.